How to cancel my subscription?
The subscription to our "Merchant Center with Actions" service is without commitment. You can therefore stop it at any time, and resume it later if you want.
Before stopping your subscription, please note that:
Orders placed on the "Buy on Google" marketplace will continue to be synchronized to your PrestaShop store until the end of the current subscription period (already paid). During it, you will be able to resume your subscription at any time, at no cost. At the end of this period, the synchronizations will stop and if you still want to manage your Google orders on your PrestaShop store, you will have to create them manually in your back office, and, at each status change, go to your Merchant Center online account to update them on the Google side.


If you also want to stop selling on Google, you also must disable Google's "Buy on Google" service through your Merchant Center online account. Indeed, stopping your subscription to our service stops the synschronization of orders and their status with your PrestaShop store but does not not prevent the sale of your products on Google's sales platforms.
To stop your subscription to our "Merchant Center with Actions" service, proceed as follows:
Click on the name of the subscription you want to stop :

In the "Actions" section, click on the "Cancel" red button:

You should get a green message confirming that your subscription has been cancelled. You can always reactivate it, at any time, by clicking on the "Resume" button: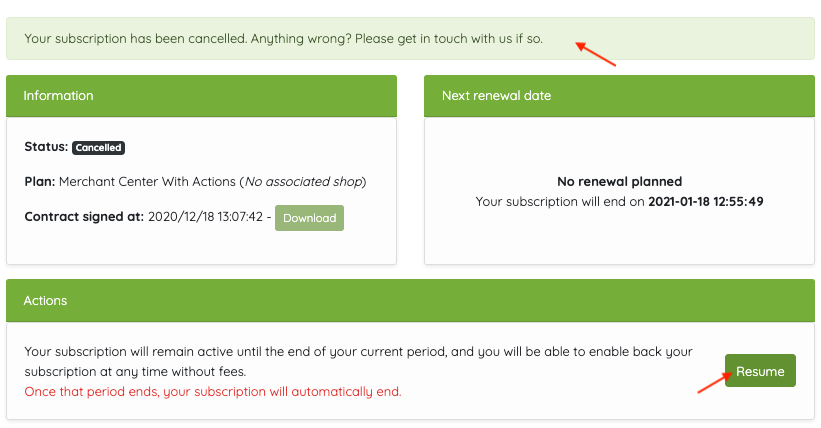 Other FAQs in this category